After Rising From Tragedy, an Ethiopian Entrepreneur Feeds the Economy — and Her Community
Date: May 24, 2017
In 1995, Menbere "Menbe" Aklilu came to the United States with her 11-year-old son, moved to Oakland, California, and became a hostess at the Richmond Italian restaurant Salute e Vita.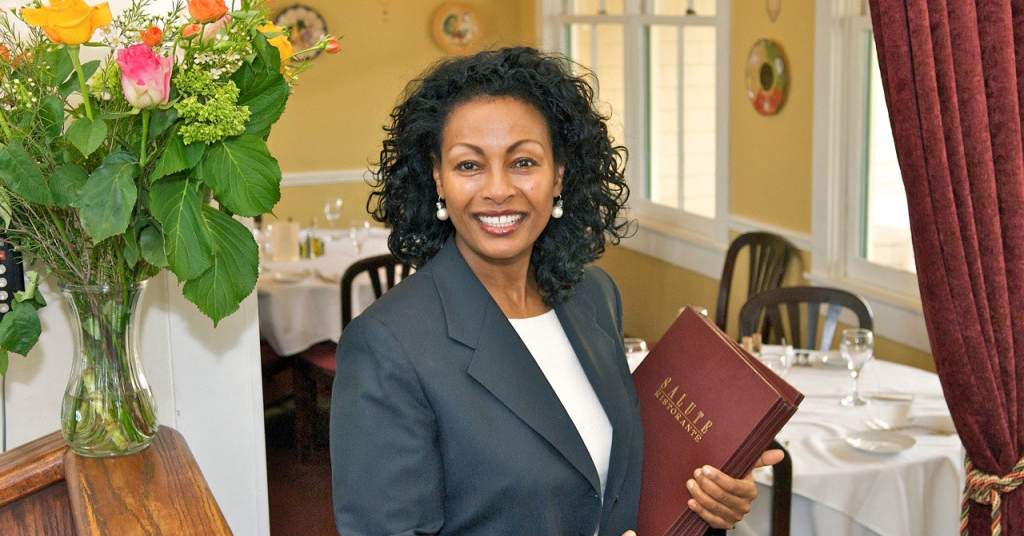 It may not sound like an auspicious beginning. But by age 10 in Gojjam, Ethiopia, Aklilu had witnessed her single mother shot to death — an act that left her an orphan. She'd later survived sexual assault, an abusive husband, and a child delivery in a homeless shelter in Italy. By comparison, being paid seven dollars an hour to smile, greet customers, and seat them seemed like a dream — and she made the most of it. In addition to her hostess duties, she also cleaned floors and windows, helping as much as she could. Her work ethic and gratitude quickly made her indispensable, and Aklilu received a series of raises and promotions — from assistant manager, to manager, and, ultimately, to general manager.
Years later, in 2002, when the restaurant was put up for sale, a customer with whom she'd grown close encouraged her to buy it — and offered to back her as an investor.
"The next day, the 84-year-old man came in with his wife and his children and said 'Sit down,' " Aklilu recalls. "He was an immigrant who came from Italy at the age of 13, and became a multimillionaire, through hard work." He was one of 2.9 million immigrant entrepreneurs in the United States, who,generate a combined $65.5 billion in annual business income — money that gets redistributed throughout the U.S. economy.
In Aklilu, the man recognized a kindred spirit. And his bet paid off. Although Aklilu had five years to repay the man's loan, it took her only 11 months. Today, he remains a loyal customer, sometimes visiting five days a week. He is delighted with Aklilu's success, having watched her grow the company from around 16 employees to 36.
In America, it doesn't matter who you are or where you came from: It matters where you are going.
As an Ethiopian immigrant, Aklilu is part of a group that starts new businesses at more than double the rate of the general U.S. population: The almost 1.5 million immigrants from the Middle East and North Africa. In fact, these and other immigrants played a vital role in creating jobs following the Great Recession. From 1996 to 2011, the rate at which immigrants founded new businesses grew by 50 percent, while the rate at which U.S.-born entrepreneurs did so actually declined, by 10 percent.
Aklilu's contributions to American society go beyond feeding the economy. Every Thanksgiving, she feeds hundreds of homeless people at her restaurant. The event started with around 300 guests; last year, she fed 1,300. Aklilu has also created her own foundation, the Menbe's Way Fund, to grant scholarships to underprivileged girls in the East Bay Area. She also personally pays the tuition for some. Every year, she brings hundreds of low-income single mothers from government housing into Salute e Vita for a special Mother's Day brunch.
For her business and philanthropic success, Aklilu has won a variety of awards, including the Contra Costa Business Woman of the Year Award, and has been invited by media to share her personal journey. She also serves on the board of the Richmond Community Foundation and regularly gives commencement speeches and speaks at citizenship ceremonies. She has been granted an honorary doctorate from Oakland's Holy Names University, and has drafted a memoir, "Menbe's Way."
"I am absolutely blessed and fortunate, because I don't think if I went to another country this ever would have happened," she says. "In America, it doesn't matter who you are or where you came from: It matters where you are going."
Aklilu's son Christian, meanwhile, is living in New York City and studying to be a doctor. "We immigrants make America great," she says. "I am a good example, and my workers are a good example. America is the right place to be successful for every immigrant. I am living the American dream."