Medicare at Fifty and the Near $200-Billion Surplus from Immigrant Contributions
Date: July 29, 2015
CONTACT
Sarah Doolin, New American Economy, sarah@renewoureconomy.org
NAE Announces a Two-Month Campaign on Immigration and the United States Healthcare System
New York, NY — With tomorrow being the 50th anniversary of Medicare, the New American Economy (NAE) has released a new video ad that calls attention to the nearly $200-billion surplus immigrants have contributed in taxes to the federal healthcare program for people who are 65 or older, as well as their role in filling much-needed jobs caring for America's senior citizens. In 1950, the system was sustainable because there were sixteen workers for every retiree. But based on demographic changes, there will soon only be two.
"Some critics of immigration reform argue that immigrants are a drain on our entitlement programs, but our research shows just the opposite," said John Feinblatt, Chairman of New American Economy. "Immigrants have helped our economy grow, and their paycheck deductions actually subsidize government healthcare coverage for millions of Americans."
Watch the ad: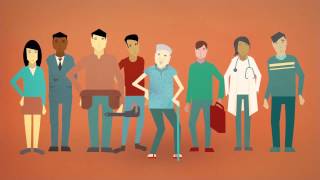 The ad draws from PNAE's report, "Staying Covered: How Immigrants Have Prolonged the Solvency of One of Medicare's Key Trust Funds and Subsidized Care for U.S. Seniors," by Leah Zallman of the Institute for Community Health and Cambridge Health Alliance at the Harvard Medical School. The report finds that between 1996 and 2011, immigrants in the United States contributed a net $182.4 billion to Medicare's Hospital Insurance Trust Fund, a pool of money covering hospital and home healthcare for 50 million Americans.
Tomorrow's Medicare anniversary marks the launch of a NAE campaign, which looks at the role of immigrants in the greater U.S. healthcare system. Beginning with briefing events across the country on immigrant contributions to Medicare, NAE will produce a two-month stream of content showing how immigrants help alleviate America's aging crisis, its struggling entitlement programs, nursing and home healthcare shortages, the current shortage of doctors in rural areas, and more. The campaign will conclude with a look at the Conrad 30 Waiver, a program that allows qualified foreign doctors to stay in the United States to work in medically underserved areas, which is set to expire on September 30.
For an interview with Feinblatt or Zallman, contact Sarah Doolin at sarah@renewoureconomy.org.
Related from NAE:
"The Power of the Purse: The Contributions of Hispanics to America's Spending Power and Tax Revenues in 2013," which says that in 2013, Hispanic households contributed $23 billion to Medicare's core trust fund and that immigrants draw far less from what they put into the fund each year.