Launching Today: NAE's Reason for Reform Campaign and National Day of Action
Date: August 3, 2016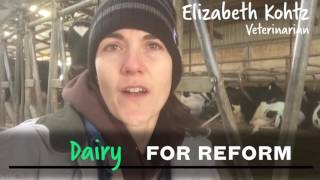 Today we are excited to officially launch our Reason for Reform campaign. Reason for Reform calls on all those affected by our country's broken immigration system—from farmers to tech leaders, students to faith communities, and others—to give their reasons for reform by recording brief, 30-second videos from cell phones or computers. Your video will be among thousands that are immediately sent to Members of Congress, letting them know that we demand real action on this issue!
Join the movement now by visiting www.ReasonForReform.org and submitting your own video.
Coinciding with the launch of the campaign, we've marked today as a National Day of Action on immigration reform and are holding more than 60 events in all 50 states, featuring local business, agriculture, faith, manufacturing, tech, and cultural leaders. We're also proud to release 51 new economic research reports—one for every state, plus Washington, DC—to showcase the economic contributions of immigrants across America and the costs borne from failure to reform. Check out all of the reports and see a list of events.
Immigrants in America are contributing to local communities in big ways. They're helping to power our economy forward in an age of increased global competition. For example, immigrants or their children are responsible for the creation of 40 percent of today's Fortune 500 companies. Not only do we benefit from the products and services these globally trusted brands provide—like Google, eBay, The Walt Disney Company, and AT&T—but these industry giants also provide jobs to millions of Americans and generate trillions in revenue.
And immigrants are powering the next wave of innovation in America. More than half—51 percent—of America's billion-dollar startups, or "unicorns," were founded by immigrant entrepreneurs. In California alone, immigrants founded 45 percent of all new businesses in the state between 2007 and 2011—years our country toiled through the financial crisis and Great Recession.
Not only are immigrants starting great companies and opening new local businesses, they're also helping to fill critical labor gaps in key industries. Agriculture, a bedrock industry for many states, has suffered from labor shortages in recent years, forcing many farmers to cut crop production or waste otherwise perfectly good produce. Between 2002 and 2014, Florida experienced a decline of more than 8,500 field and crop workers. While many Americans are simply no longer willing to do this type of work, qualified immigrants are ready to step in during the harvest season. Streamlining our H-2A visa program would allow U.S. farmers to obtain the workforce necessary to complete the growing season in a timely and more efficient manner.
And there's yet another asset our flawed immigration system keeps us from fully realizing: international students. Every year, bright and talented students from around the globe desire only to study at America's top-notch universities. We educate millions of promising foreign-born students only to provide them with few pathways to remain in the country and contribute upon graduating. We estimate that if half of Pennsylvania's 4,025 advanced-level STEM graduates on temporary visas were able to stay in the state after graduation, nearly 5,300 additional jobs would be created by 2021.
These are just a few reasons why our country needs immigration reform. We've shared some of ours; now we want to hear yours. Go to www.ReasonForReform.org today to let us and Congress know exactly why we need immigration reform. Collectively, we can ensure that the economic future of America is a bright one.