About
NAE's Global Talent Chamber Network brings together chambers of commerce from across the country who see immigrant integration as an economic growth strategy. Through this network, NAE offers research, technical assistance, and strategic advice to chambers on issues of immigration, immigrant integration, and economic development. Members of the network have access to the following support:
Tailored economic reports highlighting the contributions of immigrants to a metro area, congressional district, or state;
Communications and messaging guidance to frame immigration as an economic issue and an opportunity for growth;
Policy analysis of federal, state and local immigration legislation and its projected impact on chambers through webinars and individual engagement;
Plug-and-play advocacy opportunities and campaigns coordinated by NAE's political and public affairs teams in the field (e.g., national fly-ins and days of action, state legislative campaigns, etc.);
Best practices in local immigrant integration and economic development strategies; and
Online resources and toolkits that highlight the work of chambers of commerce in communities across the country.
| Economic Reports | Advocacy & Policy Analysis | Best Practices |
| --- | --- | --- |
| | | |
Chamber Resources
Map the Impact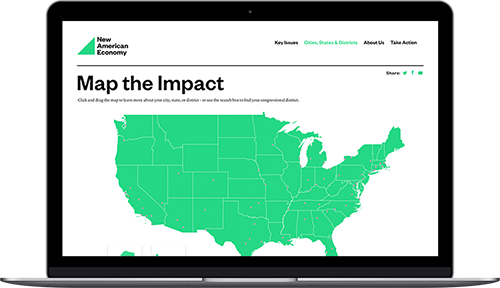 An interactive data map showcasing immigrants' contributions in all 435 congressional districts, the 100 largest U.S. metro areas, all 50 states, and across industries. Learn more at www.maptheimpact.org.
Gateways for Growth
A digital toolkit highlighting chamber leadership on regional strategic planning to enhance immigrants' economic contributions.
Learn more at www.gatewaysforgrowth.org/map/chamber.
Founding Members
GTCN Founding Members
| | | |
| --- | --- | --- |
| Ames Chamber of Commerce | Greater Austin Chamber of Commerce | Greater Boston Chamber of Commerce |
| Greater Des Moines Partnership | Cincinnati USA Regional Chamber | Denver Metro Chamber of Commerce |
| Fayetteville Chamber of Commerce | Greater Kansas City Chamber of Commerce | Lancaster Chamber of Commerce and Industry |
| Los Angeles Area Chamber of Commerce | Nashville Area Chamber of Commerce | Greater Pittsburgh Chamber of Commerce |
| San Diego Regional Chamber of Commerce | The Silicon Valley Organization | St. Louis Regional Chamber |
| Tulsa Regional Chamber | Miramar Pembroke Pines Regional Chamber of Commerce | Greater Louisville Inc. |
| Great Lakes Metro Chambers Coalition | | Asheville Area Chamber of Commerce |
Chamber Network Updates
Chamber Leaders at National Immigrant Integration Conference
Chamber and business leaders from Los Angeles, Phoenix, Silicon Valley, Corpus Christi, and Northwest Arkansas participated in panels at the National Immigrant Integration Conference in Phoenix on Dec. 11 to discuss the role chambers—and the business community more broadly—play in immigrant integration and immigration policy advocacy.
New Chamber Reports on the Contributions of Immigrants in Tulsa and Kansas City
NAE recently partnered with the Tulsa Regional Chamber and the Greater Kansas City Chamber of Commerce to release new studies on the economic contributions of immigrants in their respective metro areas. See press coverage here.
Chambers Join #iMarch
Chambers in Arizona, Austin, Kansas City, Kentucky, Los Angeles, Louisville, Pittsburgh, and San Diego joined partners across the country in the #iMarch for Immigration, calling on Congress to fix our broken immigration system, starting with a permanent solution for Dreamers by year's end. San Diego Chamber CEO Jerry Sanders and Kansas City Chamber CEO Joe Reardon each penned op/eds on the issue.
Join Us in Salt Lake in 2018
The second annual Global Talent Chamber Network convening will take place in Salt Lake City on March 28th, 2018, hosted by the Salt Lake Chamber. The convening will offer a unique peer learning opportunity for chambers to discuss how to leverage immigration as an economic growth strategy. Contact globaltalent@newamericaneconomy.org for more info.