About
NAE's Global Talent Chamber Network brings together chambers of commerce from across the country who see immigrant integration as an economic growth strategy. Through this network, NAE offers research, technical assistance, and strategic advice to chambers on issues of immigration, immigrant integration, and economic development. Members of the network have access to the following support:
Tailored economic reports highlighting the contributions of immigrants to a metro area, congressional district, or state;
Communications and messaging guidance to frame immigration as an economic issue and an opportunity for growth;
Policy analysis of federal, state and local immigration legislation and its projected impact on chambers through webinars and individual engagement;
Plug-and-play advocacy opportunities and campaigns coordinated by NAE's political and public affairs teams in the field (e.g., national fly-ins and days of action, state legislative campaigns, etc.);
Best practices in local immigrant integration and economic development strategies; and
Online resources and toolkits that highlight the work of chambers of commerce in communities across the country.
| Economic Reports | Advocacy & Policy Analysis | Best Practices |
| --- | --- | --- |
| | | |
Chamber Resources
Map the Impact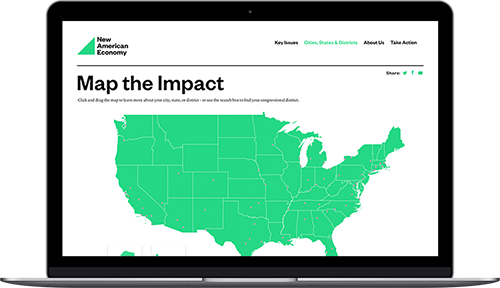 An interactive data map showcasing immigrants' contributions in all 435 congressional districts, the 100 largest U.S. metro areas, all 50 states, and across industries. Learn more at www.maptheimpact.org.
Gateways for Growth
A digital toolkit highlighting chamber leadership on regional strategic planning to enhance immigrants' economic contributions.
Learn more at www.gatewaysforgrowth.org/map/chamber.
Founding Members
GTCN Founding Members
| | | |
| --- | --- | --- |
| Ames Chamber of Commerce | Greater Austin Chamber of Commerce | Greater Boston Chamber of Commerce |
| Greater Des Moines Partnership | Cincinnati USA Regional Chamber | Denver Metro Chamber of Commerce |
| Fayetteville Chamber of Commerce | Greater Kansas City Chamber of Commerce | Lancaster Chamber of Commerce and Industry |
| Los Angeles Area Chamber of Commerce | Nashville Area Chamber of Commerce | Greater Pittsburgh Chamber of Commerce |
| San Diego Regional Chamber of Commerce | The Silicon Valley Organization | St. Louis Regional Chamber |
| Tulsa Regional Chamber | Miramar Pembroke Pines Regional Chamber of Commerce | Greater Louisville Inc. |
| Great Lakes Metro Chambers Coalition | Minneapolis Regional Chamber | Asheville Area Chamber of Commerce |
| Dallas Regional Chamber | Champaign County Chamber of Commerce | Fresno Chamber of Commerce |
| Lubbock Chamber of Commerce | Kentucky Chamber of Commerce | Greater Omaha Chamber |
| | Fort Bend Chamber of Commerce | |
Chamber Network Updates
Join Us at the ACCE Convention in July
The team from New American Economy will be attending the Association of Chamber of Commerce Executives annual convention, held this year in Des Moines, IA from July 17-20. We hope you'll join us at a reception on Thursday, July 19 from 5:00-6:30pm for informal networking and catch up on your recent work. For more information, contact globaltalent@newamericaneconomy.org. See you there!
50 Chambers Sign Open Letter to Congress on Dreamers
With the Deferred Action for Childhood Arrivals (DACA) program in jeopardy, over 50 chambers of commerce from 24 states signed NAE's open letter calling on Congress to pass bipartisan legislation to protect DREAMERs. In the letter, local and state business leaders cited the important role Dreamers play in keeping our country's workforce young and competitive, contributing to the tax base, and creating jobs for all Americans.
Salt Lake Chamber Hosts Second Annual Global Talent Chamber Convening
The second annual Global Talent Chamber Network convening took place in Salt Lake City, Utah in March. Hosted by the Salt Lake Chamber, the convening offered chamber leaders a unique peer learning opportunity on how to leverage immigration as an economic growth strategy. Sixteen chambers from 12 states participated in the convening.
Here is a group picture following the convening:
New Chamber Reports on the Contributions of Immigrants in Little Rock and Harrisonburg; Bilingual Jobs in Iowa
New American Economy recently partnered with the Little Rock Regional Chamber of Commerce and the Harrisonburg-Rockingham Chamber of Commerce to release new studies on the economic contributions of immigrants in their respective communities. Both Little Rock and Harrisonburg were among the 44 communities that have received a Gateways for Growth Challenge award for their commitment to welcoming and integrating New Americans. See press coverage of the reports here and here.
In April, New American Economy also joined the Greater Des Moines Partnership (GDMP) in supporting the creation of a Seal of Biliteracy in Iowa. The Seal, which is awarded to high school graduates proficient in a foreign language, shows that states recognize the need for global talent in their local workforce. Read more about the Iowa seal and the GDMP's support of it here.