About
NAE's Global Talent Chamber Network brings together chambers of commerce from across the country who see immigrant integration as an economic growth strategy. Through this network, NAE offers research, technical assistance, and strategic advice to chambers on issues of immigration, immigrant integration, and economic development. Members of the network have access to the following support:
Tailored economic reports highlighting the contributions of immigrants to a metro area, congressional district, or state;
Communications and messaging guidance to frame immigration as an economic issue and an opportunity for growth;
Policy analysis of federal, state and local immigration legislation and its projected impact on chambers through webinars and individual engagement;
Plug-and-play advocacy opportunities and campaigns coordinated by NAE's political and public affairs teams in the field (e.g., national fly-ins and days of action, state legislative campaigns, etc.);
Best practices in local immigrant integration and economic development strategies; and
Online resources and toolkits that highlight the work of chambers of commerce in communities across the country.
| Economic Reports | Advocacy & Policy Analysis | Best Practices |
| --- | --- | --- |
| | | |
Chamber Resources
Map the Impact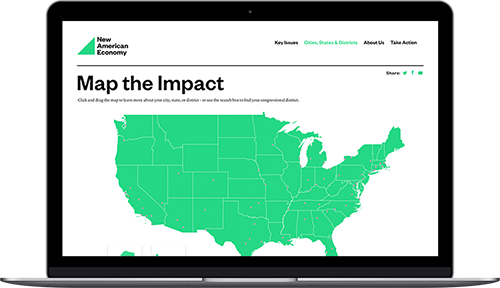 An interactive data map showcasing immigrants' contributions in all 435 congressional districts, the 100 largest U.S. metro areas, all 50 states, and across industries. Learn more at www.maptheimpact.org.
Gateways for Growth
A digital toolkit highlighting chamber leadership on regional strategic planning to enhance immigrants' economic contributions.
Learn more at www.gatewaysforgrowth.org/map/chamber.
GTCN Resources Hub
A clearinghouse of resources with toolkits, research, and advocacy materials available exclusively to members of the Global Talent Chamber Network and attendees of our annual chamber convening. Access it at newamericaneconomy.org/gtcn-resources.
Founding Members
GTCN Founding Members
| | | |
| --- | --- | --- |
| Ames Chamber of Commerce | Greater Austin Chamber of Commerce | Greater Boston Chamber of Commerce |
| Greater Des Moines Partnership | Cincinnati USA Regional Chamber | Denver Metro Chamber of Commerce |
| Fayetteville Chamber of Commerce | Greater Kansas City Chamber of Commerce | Lancaster Chamber of Commerce and Industry |
| Los Angeles Area Chamber of Commerce | Nashville Area Chamber of Commerce | Greater Pittsburgh Chamber of Commerce |
| San Diego Regional Chamber of Commerce | The Silicon Valley Organization | St. Louis Regional Chamber |
| Tulsa Regional Chamber | Miramar Pembroke Pines Regional Chamber of Commerce | Greater Louisville Inc. |
| Great Lakes Metro Chambers Coalition | Minneapolis Regional Chamber | Asheville Area Chamber of Commerce |
| Dallas Regional Chamber | Champaign County Chamber of Commerce | Fresno Chamber of Commerce |
| Lubbock Chamber of Commerce | Kentucky Chamber of Commerce | Greater Omaha Chamber |
| Northern Kentucky Chamber of Commerce | Fort Bend Chamber of Commerce | North Dallas Chamber of Commerce |
| Greater Waco Chamber of Commerce | San Antonio Hispanic Chamber of Commerce | Greater Arlington Chamber of Commerce |
| Cedar Rapids Metro Economic Alliance | | Greater Cleveland Partnership |
Chamber Network Updates
LA Chamber Hosts Annual Global Talent Chamber Convening
In April, NAE and the Association of Chamber of Commerce Executives (ACCE) hosted leaders from 16 chambers of commerce in Los Angeles, CA for our 3rd-annual Global Talent Chamber Network Convening. Over the course of the one-day conference, business leaders shared lessons about how to get involved in immigrant integration and advocacy work locally. We also visited Koreatown Youth and Community Center to learn about innovative ways the business community can support financial inclusion, education, and housing services for immigrants.
GTCN leaders at the 3rd annual Global Talent Chamber Convening in Los Angeles, CA, April 2019
60 Chambers of Commerce Call on Congress to Protect DACA and TPS
In May, NAE organized 60 chambers of commerce from 26 states to call on Congressional leadership to pass the Dream and Promise Act to give a path to citizenship to Dreamers and Temporary Protected Status (TPS) holders. In an open letter, the business leaders recognize the important role these immigrant populations play in keeping our workforce young and competitive, contributing to the tax base, and creating jobs for all Americans. Read the entire letter here.
Chambers Join Four State Compacts on Immigration
Since February, we've supported business and industry leaders in Iowa, Texas, Florida, and Utah as they launch State Compacts on Immigration, with hundreds of signers—including dozens of chambers—across the four states. Each compact offers a set of guiding principles calling for smart, common-sense immigration policies that support economic growth and keep each state's economy competitive. We're working on more compacts this year, and if you're interested in championing one in your state, please reach out to the NAE team.
NAE Prepares to Launch Second Edition of Cities Index
Last fall, NAE launched the Cities Index, a first-ever assessment of how well the largest 100 cities in the US are integrating their immigrant populations. By showing how and where cities are succeeding—and where there's room for improvement—chambers can use the Index to guide strategies to better attract and retain international talent. This September, NAE will be updating every score for every city scored in the Index.
The Boston, Detroit and Cincinnati chambers joined mayors and members of Congress in tweeting their scores last year and we hope more chambers will join us in lifting up the Index again this year.
Join NAE at the 2019 National Immigrant Integration Conference
NAE will be attending the National Immigrant Integration Conference (NIIC), held this year in Detroit, MI from October 20-22. Now in its 12th year, the NIIC is the largest conference on immigration in the US and includes three days of networking and strategizing on immigration policy issues. NAE will lead discussions on business leadership on immigration planning and advocacy, and host a welcome reception to kick off the conference. We hope to see you there!