They say all politics is local, right? While most of the debate about immigration focuses on congressional action (or inaction), local communities across the country are the ones who feel the value of immigration most tangibly.
Explore NAE's Local Economic Briefs
Go
Now active in more than 100 communities – 75 percent of which are in conservative states – the NAE State & Local team works with policymakers, business, and civic leaders to promote policies and programs that help create jobs and drive economic growth.
Active Cities: 106
Akron, OH
Alexandria, VA
Ames, IA
Anchorage, AK
Arlington, TX
Asheville, NC
Atlanta, GA
Austin, MN
Austin, TX
Birmingham, AL
Boise, ID
Boston, MA
Bowling Green, KY
Brownsville, TX
Buffalo, NY
Cedar Rapids, IA
Champaign/Urbana, IL
Charlotte, NC
Chicago, IL
Cincinnati, OH
Cleveland, OH
Columbus, OH
Contra Costa County, CA
Corpus Christi, TX
Dallas, TX
Dane County, WI
Dayton, OH
Denver, CO
Des Moines, IA
Detroit, MI
Erie, PA
Fargo, ND
Fayatteville, AR
Flint, MI
Fort Bend, TX
Fort Wayne, IN
Fort Worth, TX
Fresno, CA
Gainesville, FL
Grand Forks, ND
Grand Rapids, MI
Greensville, SC
Harrisonburg, VA
Honolulu, HI
Houston, TX
Indianapolis, IN
Jackson Hole, WY
Jersey City, NJ
Kansas City, NE/MO
Katy, TX
Lancaster County, NE
Lancaster, PA
Lexington, KY
Little Rock, AR
Long Beach, CA
Longview, TX
Los Angeles, CA
Louisville, KY
Lowell, MA
Lubbock, TX
Macomb, MI
Madison, WI
Memphis, TN
Mercer County, NJ
Miami-Dade County, FL
Middlesex County, NJ
Minneapolis, MN
Miramar, FL
Missoula, MO
Nashville, TN
New Orleans, LA
Northern Kentucky
Northern Virginia
Northwest Arkansas
Odessa, TX
Orlando, FL
Omaha, NE
Ottawa, MI
Passaic County, NJ
Philadelphia, PA
Phoenix, AZ
Pittsburgh, PA
Plano, TX
Portland, ME
Portland, OR
Prince George's County, MD
Reno, NV
Roanoke, VA
Saint Paul, MN
Salt Lake County, UT
San Antonio, TX
San Diego, CA
San Jose/Silicon Valley, CA
San Mateo County, CA
Shenandoah Valley, VA
Siouxland, IA
South Bend, IN
Southwest Kansas
Spokane, WA
St. Louis, MO
Syracuse, NY
Toledo, OH
Tula, OK
Waco, TX
Washtenaw, MI
Wayne County, MI
Active States: 20
California
Colorado
Florida
Hawaii
Iowa
Kentucky
Maryland
Massachussetts
Michigan
Minnesota
Nevada
New Jersey
New York
Ohio
Pennsylvania
Texas
Utah
Virginia
Washington
Wisconsin
Around the country we have seen wins at the state and local levels that are changing the landscape and creating an environment where all residents can reach their full potential. This includes 30 municipal offices dedicated to immigrant inclusion; 23 local strategic plans for immigrant integration; tuition equity policies in 22 states; and 32 states plus Washington, DC that have a state Seal of Biliteracy.
In 2017, we released New Americans and a New Direction: The Role of Immigrants in Reviving the Great Lakes Region, a report drawing attention to the way immigrants have helped bring many Rust Belt cities back from the brink. We published the report in partnership with the Great Lakes Metro Chambers Coalition, which, in turn, is using the report's findings to press policymakers for reform.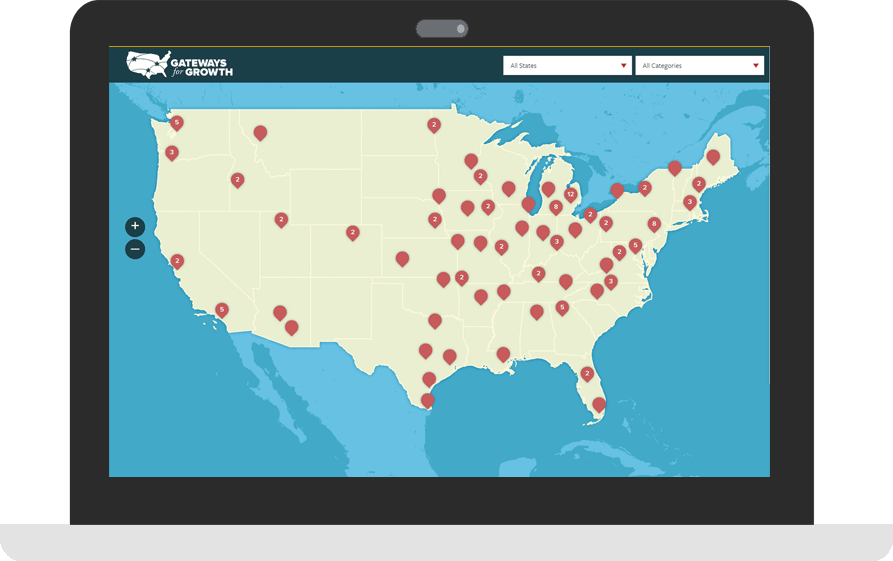 NAE is also scaling our state and local work through the Gateways for Growth Challenge – a competitive opportunity offered in partnership with Welcoming America – for local governments, chambers of commerce, and non-profit organizations to jointly apply for tailored research, direct technical assistance, and matching grants to support their strategic planning processes.
One of the most valuable partners we have identified are local chambers of commerce. Chamber leaders understand that immigration is critical to growth, and they recognize the reliance local businesses have on immigrants as entrepreneurs, employees, and customers. We are delighted to include chambers of commerce from coast to coast in our Global Talent Chamber Network.