International Love
Date: February 11, 2015
Five Valentine's Day Power Couples & Their Immigration Stories
These famous couples may have been born in different countries, but as all true romantics know, love has no boundaries. Check out the immigration stories that brought these dynamo duos together, and join PNAE in wishing international couples across the globe a very happy Valentine's Day.
1. Gisele Bündchen & Tom Brady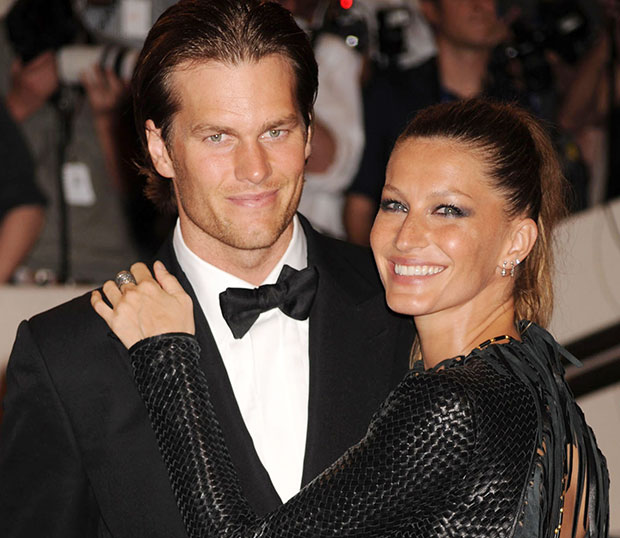 Born and raised in southern Brazil, Gisele Bündchen was discovered in a São Paulo shopping mall by a modeling agency at the age of 14. Two years later, she moved to New York City to model at Fashion Week, and her career took off from there. Since 2004, Bündchen has been the highest-paid model in the world, earning $47 million in 2014 alone. In 2006, Bündchen met New England Patriots quarterback Tom Brady, a California-born football icon who has led his team to more division titles than any other quarterback in NFL history. The two were set up on a blind date by a mutual friend, who told Brady he had found "the girl version of him," while telling Bündchen he had found "the boy version of her." The two married in 2009 in Santa Monica, California and have since had two children. The family currently lives in Brookline, Massachusetts, and in 2010, Bündchen told Vogue, "I'm really a Bostonian now."
2. Amal & George Clooney
Attorney and activist Amal Alamuddin fled from war-torn Lebanon with her family when she was just two years old. Alamuddin grew up in Buckinghamshire, England and moved to the United States in 2001 to attend New York University School of Law. While in law school, Alamuddin worked for a number of prestigious judges, including current Supreme Court Justice Sonia Sotomayor. Over the past decade, Alamuddin has become a prominent human rights lawyer, representing clients such as Ukraine's ex-prime minister Yulia Tymoshenko and WikiLeaks founder Julian Assange. In September 2013, Alamuddin met Hollywood superstar George Clooney through a mutual friend at a charity event. Despite Clooney's reputation as a serial dater with a cynical view on marriage, the human rights activist and actor from Kentucky fell for Alamuddin, and the two wed in Venice, Italy in 2014. While accepting the Cecil B. DeMille Lifetime Achievement Award at the 2015 Golden Globes, Clooney told his new wife, "…Amal, whatever alchemy it is that brought us together, I couldn't be more proud to be your husband."
3. Diane von Fürstenberg & Barry Diller
Fashion designer Diane von Fürstenberg was born in Belgium in 1946, just 18 months after her mother left the Auschwitz concentration camp. Fürstenberg spent her youth in a number of European countries, studying economics at the University of Geneva before moving to Paris and Italy to work in the fashion industry. In 1969, she moved to New York City, and one year later she began designing women's clothes. In 1974, she designed the wrap dress, which has become so iconic that it sits in the Costume Institute at the Metropolitan Museum of Art. At age 28, Fürstenberg met American media mogul Barry Diller, and the two married after 26 years of an on-again-off-again relationship. Fürstenberg describes Diller as her best friend and soulmate and tells Harper's Bazaar, "What's extraordinary about him is that he loves me so unbelievably unconditionally." Listed by Forbes as one of "The World's 100 Most Powerful Women," Fürstenberg has received the Lifetime Achievement Award from the Council of Fashion Designers of America and has published a memoir. With her corporate headquarters and home in New York City's meatpacking district, she is an active philanthropist and supporter of her local community, donating $35 million to the development of New York City's iconic High Line, an innovative, elevated public park that is popular among both tourists and city residents.
4. Marie-Josée & Henry Kravis
Born in Canada, economist Marie-Josée Kravis has become one of America's most prominent philanthropists. After earning her Master's degree in economics from the University of Ottawa in 1973, Marie-Josée became a senior fellow at the Hudson Institute, where she served as executive director for Canada from 1976 – 1994. In 1994, she married American billionaire financier Henry Kravis, and the couple has been consistently recognized for their generosity. The Chronicle of Philanthropy ranked them 25th on its list of highest donating individuals in 2008, and New York Magazine ranked Marie-Josée as one of the top ten influentials in philanthropy. A major patron of the Mount Sinai Medical Center, Marie-Josée has helped to raise $30 million for a heart research center there. She also currently serves as president of the Museum of Modern Art, where she has donated $10 million.
5. Mila Kunis & Ashton Kutcher
In 1991, seven-year-old Mila Kunis and her family moved from the USSR to Los Angeles, California with just $250 in their pockets. Kunis, who spoke no English upon arriving in the States, started taking acting classes at the age of nine. Within a month, she was discovered by an agent and cast in a Barbie commercial. In 1998, she earned a role on the hit television series That 70s Show, where she met Iowa-born actor Ashton Kutcher. The two became fast friends (Kunis later admitted that her on-screen kiss with Kutcher was her first), and they remained close as they pursued separate careers and relationships – Kutcher with actress Demi Moore and Kunis with actor MacCaulay Caulkin. While with Caulkin, Kunis starred in box office hits such as Forgetting Sarah Marshall, Black Swan, and Friends with Benefits. In 2011, both long-term relationships ended, and Kunis' and Kutcher's friendship grew into something more. Currently engaged, the couple had their first child in October 2014, and wedding plans are in the works. Kunis told W Magazine, "I never wanted to get married…Then things changed—I found the love of my life."